HECHMET (Vertére) Chemical Inventory System
The University of Guelph has joined an ever-growing number of universities across Canada in adopting the HECHMET system for hazardous materials management. This system is based on Vertére's chemical inventory management module and will ensure that U of g has up-to-date inventories that are easily accessible while providing valuable information for regulatory reporting and incident response. The purpose of this initiative is to comply with the Canadian Occupational Health and Safety Act and to reduce the overall risk associated with using, handling, and storing chemical products or agents. Any laboratory without a current and up to date laboratory inventory and associated SDSs is in contravention of the Occupational Health and Safety Act. The University of Guelph community has also access to Chemwatch GOLD FFX to help manage SDSs and chemical labelling on campus.
Log in: Vertére Chemical Inventory Login. ***Access to this site requires FULL TUNNEL VPN. 
Sign up: Please follow directions as listed on this page.
HECHMET is based on the Vertére Inventory Manager (VIM) software, a modular, web-based enterprise application used to track chemicals and other materials within the university working environment. Hazardous chemicals are tagged with a unique barcode label that cross-references to:
Storage location
Principal Investigator (PI) responsible for the item
Chemical properties and information
SDS-related information through ChemWatch
Other information (e.g., information is secured using Access Levels assigned to Hechmet users)
The chemical inventory system allows the University of Guelph to effectively:
Track chemicals from receipt to disposal using barcode labels
Monitor the locations and types of hazardous materials present
Facilitate appropriate disposal
Comply with regulatory requirements
Encourage sharing among colleagues to reduce waste and cost
Procedures
Initial inventory set-up: User and location trees have been created within the Hechmet inventory by EHS., 2 Hechmet co-op students will come to your lab during a predetermined period, add barcode labels to the chemicals stored in the lab and enter the chemicals into your lab-specific inventory.
Ongoing Inventory Maintenance
Procedures will vary between buildings and/or departments. Preferably locations will have a one receiving site  and each department will establish specific procedure for newly purchased chemicals on how to apply a barcode label and assign the chemical to the labs.
What is included in the inventory?
Flammable/combustible liquids
Flammable solids
Oxidizers
Organic peroxides
Toxins/poisons (e.g. biological toxins, dyes, adhesives)
Corrosives
Hazardous formulations
Controlled products and substances
Compressed Gas cylinders
What is NOT included in the inventory?
Dilutions and solutions prepared on-site
Stains and dyes for making microscope slides 
Non-hazardous buffers
Tissue culture supplies
Biological growth media (e.g. agar)
Enzyme preparations
Products available for retail purchase (e.g. household cleaners, paint thinner)
Hazardous chemicals under 1 g or 1 ml in weight or volume
Radioactive materials
Biohazardous materials
Non-hazardous substances (e.g. glucose, sodium bicarbonate)
While the chemical inventory offers various advantages to the entire University community, users are also able to use it to:
Search by chemical name, location, room
Retrieve the SDS for chemicals
Export or print search results for future reference
All Principal Investigators and laboratories will be provided with a unique username and password via email.
All-new chemicals shipped to your department will be barcoded and entered the U of Guelph VERÉTRE Chemical Inventory. A designated staff member in your department will barcode the chemical and enter it into the system to the appropriate lab and primary investigator (i.e. researcher). All this work will be done for you and will ensure the accuracy of your inventory and allow for the process efficiency.
When purchasing chemicals, it is very important that you include the lab location to which the chemicals will be going (lab room number in your building) as all lab locations have been assigned to PI's in the VERTÉRE chemical inventory. Doing so will assist the barcoding individual in assigning a chemical to the appropriate lab location. 
If you receive a chemical that does not have a barcode on it, please contact the designated person in your department so that chemical can be barcoded and entered it into the system.
Once you have received your login and password from EHS,
Each faculty has to set up 2 accounts:  

1ST ACCOUNT:  Inventory Manager - has the right to search, add chemicals, transfer within the lab locations, dispose of chemicals, and update inventory. The faculty is an inventory manager . Inventory manager can ONLY see their lab inventory 

Inventory manager Hechmet access:

USERNAME: IS THE SAME AS THE U OF G USERNAME. For example, if the U of G username is

psmits@uoguelph.ca

, the hechmet inventory manager username is also "psmits"

PASSWORD: guelph2020 (you can change it after the first login)  

2ND ACCOUNT: Lab User – has the right to VIEW ONLY chemicals within the department. It is a FAKE account and can be shared with your students to search chemicals or access SDSs etc.  Lab Users can see the entire department inventory 

Lab user Hechmet access:  USERNAME ID: FACULTY LAST NAME LAB USER. For example, faculty last name is Smith. The faculty lab user login would be: Smith lab user

PASSWORD: guelph2020 (you can change it after the first login)  

There is only one module right now "Chemical". Click on "Chemical".
From the left-hand menu, click on View/Update under the "Chemical" heading to view your chemical inventory. PI will have 2 accesses to Hechmet. PI, is an inventory manager and can search, add, transfer, delete chemicals for the PI specific inventory. Lab user is a fake login and allows to view only all chemicals in the department.
Select ADD option in the menu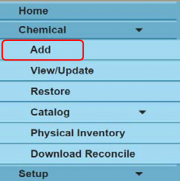 STEP 1, OPTION 1 - ENTERING THE CHEMICAL LISTED IN THE CATALOG

First, try to search the product by the PRODUCT NUMBER or STOCK NUMBER, click SEARCH
to search by product number skip the volume part of the product ei. A841
to search by stock number use all product number and volume ei, A841/4 – 4 stands for 4 L
If it does not work, you can try a combination of the available fields:
CAS number and the VENDOR click SEARCH
 If CAS number is not on the bottle search by CHEMICAL NAME and VENDOR click SEARCH
If the above doesn't work search by MANUFACTURER and CHEMICAL NAME, click SEARCH
STEP 1, OPTION 2 - ENTERING THE CHEMICAL THAT IS NOT IN THE CATALOG
If the chemical is not in the catalog click on CATALOG and select CREATE NEW.
Enter the following information in the fields marks with asterisk, CHEMICAL NAME, AMOUNT, *U-O-M ( THAT INDICATES VOLUME), PRODUCT NUMBER (on the chemical bottle) and VENDOR then click SAVE
Next click ADD
Find the chemical that you just entered (by typing the CAS# or Chemical Name or Product Number)
STEP 2  – BARCODING USING PREPRINTED BARCODES
If you find the right product, click on the GREEN check mark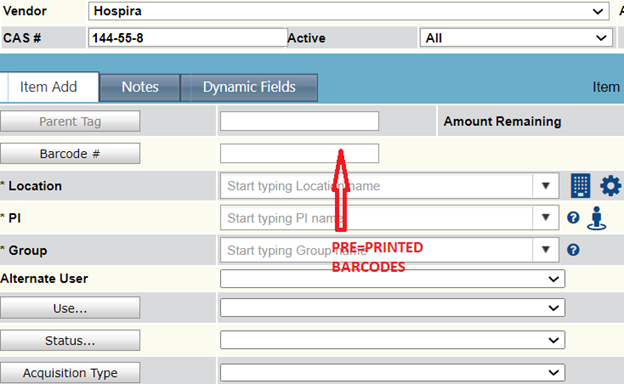 Example of a Pre-Printed Barcode: 

Using pre-printed barcodes (from EHS main office, Alexander Hall room 162) (type the barcode # in the blank window) First - Enter the LOCATION. The PI and Department will automatically auto populate (MOST OF THE TIMES). (Hechmet has a glitch in the system which we can use to our advantage. In location type PI name and location will show up instead of the PI last name. That way you don't have to scroll down from the drop-down menu and search for building, floor, room etc.)
Click on SAVE
If using printer click on PRINT TAG
Attach tag on the bottle
If you made a mistake and did not enter the right barcode number:
Go to view/update
Enter the barcode number you wish to change
Select the product
Click on change tag
Enter the new barcode number
Click on OK
To add an additional entry of the same chemical
click COPY LAST DATA.
Enter a new barcode # and click Save or click Print Tag to print the barcode (if applicable)
To add multiple entries of the same chemical
click ADD MANY
Type in the number of additional entries (YOU HAVE 5 IDENTICAL BOTTLES OF CHEMICALS. YOU ALREADY ENTERED 1, THEREFORE IN THE ADDITIONAL ENTRIES TYPE 4 TO MAKE IT UP TO THE TOTAL 5.
If using pre-printed tags, click "Show" and manually type or scan the barcodes: then click Ok.
If you are not using pre-printed tags, click Print Tags: then click Ok

*Only available to the Inventory Manager (most people have View Only access) 
Click on VIEW/UPDATE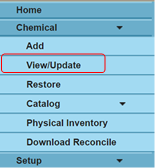 Locate the chemical using: 
A. PI. Choose PI last name follow by Lab 
B. Enter the name of chemical  
C. If needed, use other field names 

Select the Checkbox next to the chemical(s) and then click on TRANSFER, If moving entire inventory click on SELECT ALL ON PAGE and click TRANSFER 

When the new windows open  

Type in new Location for either the same PI or chose a new PI 
Click COMPLETE TRANSFER 
NOTE: Multiple chemicals can be transferred at a time by selecting many chemicals at the same time.  
NOTE: COMPRESSED GASSES INVENTORY IS STANDING. Therefore, do not remove barcodes from the Compressed Gas sheet (if applicable). If inventory is to be downsized, remove applicable barcodes, and apply on this sheet. Alternatively, Inventory Manager can dispose of the barcode within the system.
Remove the bar code 
Fixed the barcode into the Barcode Disposal Form 
Mail the form to EHS, Alexander Hall room 162 via interdepartmental mail. Please do not email, scan or fax this sheet because the barcodes become distorted. The barcodes will be removed from your chemical inventory system by EHS. If you want to delete the chemical yourself, do the following: 
Click "View/Update" 
Type barcode in the barcode field 
Select the correct chemical 
Click "Delete" 
Disposed of the empty bottle appropriately 
View/Update (instructions above).
Choose the chemical by clicking the box to the left.
Click on "Change Tag".
Enter in correct tag number and save.
Go to view/update
Manually enter the barcode number you wish to dispose of your inventory
Select it to the left hand site
Click on dispose
Choose the PI that approved the disposal
Select OK