GREAT Research and Resources
Definitions
Understanding the difference between gratitude, recognition and appreciation is important to meaningfully encourage the heart and deepen employee engagement.  So, what is the difference?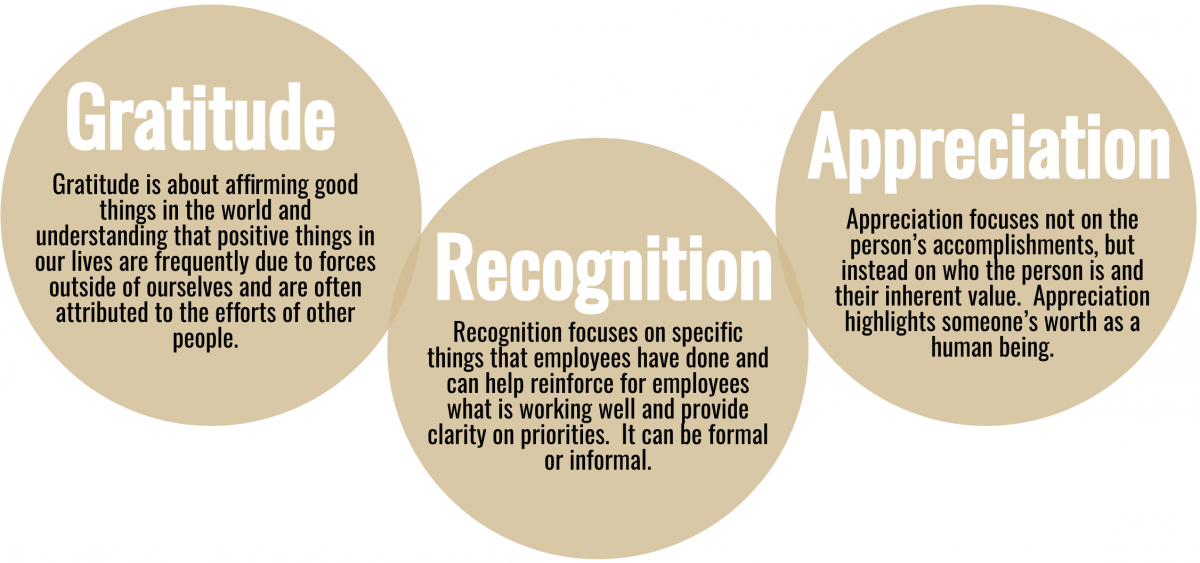 GREAT in Action
Gratitude
People with persistent gratitude are more likely to feel positive emotions at work, like excitement and happiness, which improves overall well-being (Grabarek, 2018).
Building a culture of gratitude can "transform work lives, leading to deeper connections to each other and to the work we're doing" (Newman, 2017).
Gratitude in action might include:
Writing three things you are grateful for daily in a gratitude journal.
Listening to a guided gratitude meditation that encourages you to think of someone you want to appreciate and focus on how you have been positively impacted by that person.
Sharing feelings of gratitude at team meetings to build an organizational culture of gratitude.
Recognition
Recognizing someone for their work can help increase motivation, build self-esteem, and promote prosocial behaviours.
Below are a couple examples of how you might show recognition in the workplace:
"Thank you for delivering this project on time with such attention to detail.  The work you have done will help us continue expanding our offerings to make a more holistic program. Great work!"
"I was blown away by your analysis of our web metrics. I would have never even thought of doing something like that. What you did will really help us target our communications to be more effective. Thank you."
Appreciation
Below are a few ways you might start to express appreciation to someone:
I admire your…
I value…
I appreciate your...
Here are a few examples:
"The office is a happier place with you in it. Thanks for the laughs!"
"A reliable employee is the best gift a leader can ask for. Thank you for being someone I can always count on."
"Your enthusiasm for personal growth and development is truly inspirational."
"I'm so grateful that you're not afraid to ask questions! It really helps us work well together."
Research
Learn more about the research supporting gratitude, recognition and appreciation. View an environmental scan that highlights programs from other Canadian post-secondary institutions.