Leave for Change Volunteers to share their stories
Last year, two University of Guelph employees traveled to Nepal on Leave for Change volunteer assignments related to farming. Agriculture in Nepal has long been based on subsistence farming, particularly in the hilly regions where families derive their living from the land. Over 80% of Nepalis are involved in agriculture and dairy farming makes up 12% of the gross domestic product.
Christi Cooper, Manager of Agricultural & Veterinary Safety in Environmental Health & Safety, Human Resources was based in Kathmandu for four weeks in December 2014. Christi's mandate as Proposal Writing and Training Advisor at the Central Dairy Cooperative Association of Nepal (CDCAN) included assisting Cooperative members to develop skills for writing funding proposals. She visited two milk collection centres to view activity and develop an understanding for a comparative analysis to assist with targeted proposal writing.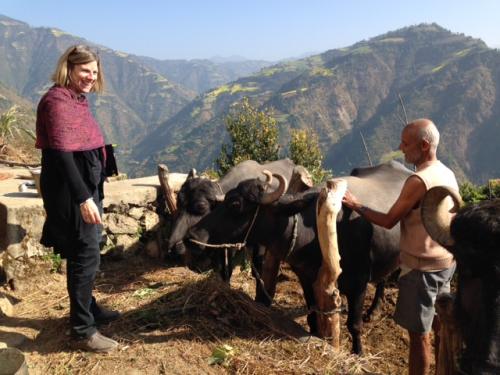 "I feel that in a small way, I will have helped move the future of dairy farming forward here, though the work has really just begun," Cooper said as she was leaving Nepal in December.
As Dairy Quality Control Advisor to the Makawanpur District Milk Producers Cooperative Union (MDMPCU), Mandy Hathway visited seven different farmers cooperatives and four family farms near Hetauda, in the Makawanpur District. Back at the Ontario Veterinary College, Hathway works as a Veterinary Technician in the Department of Clinical Studies.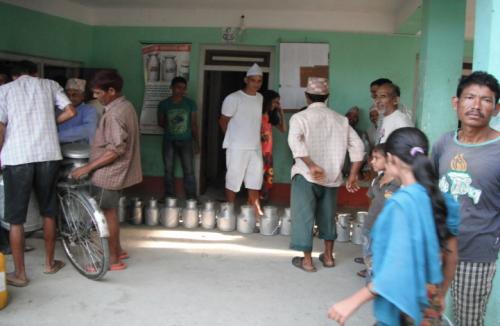 One of the Cooperatives Hathway visited was run by women. Two to three years old, one of the biggest hurdles the Cooperative members face is that they have a chilling vat for the milk but no power to run it. They were also dependent upon a local truck to come and pick up their milk vessels to deliver them to the local milk product producer. This truck may be late, or may break down so it could delay the delivery which decreases the quality of the milk. "We really do not know how good we have it in Canada!" reflects Hathway.
Both Cooper and Hathway will share their Leave for Change stories in upcoming presentations.
Join Cooper on Tuesday, February 24, 2015, 12:00 – 1:15 pm in Room 168, Alexander Hall. Bring your lunch!
Hathway will present Wednesday, February 25th, 12:00 - 1:00 pm, in room 1434, OVC main building.