Congrats to our April "G" Thanks! Winner Mike Lafleur!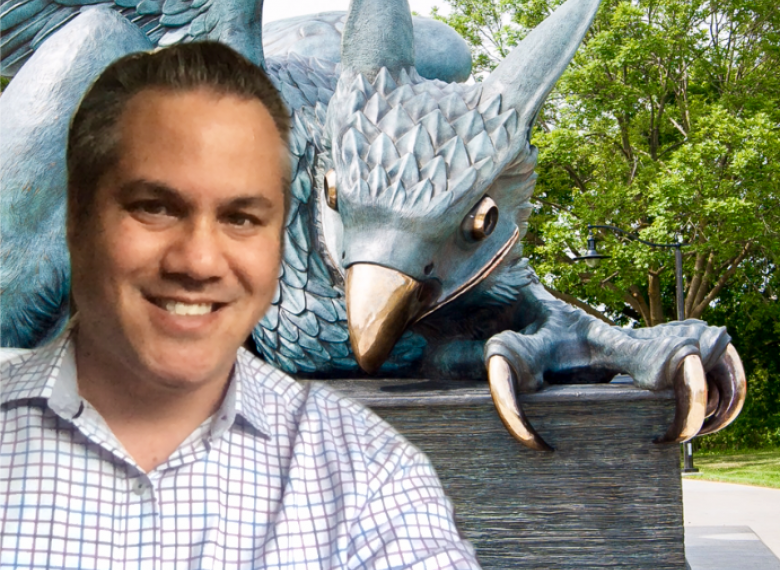 Congrats to our April "G" Thanks! Winner Mike Lafleur!
Jacqueline Veres wrote "I would like to nominate Mike Lafleur! Mike is one of the Education Abroad Advisors in the Centre for International Programs and over the past few months has done a fantastic job leading our team through the research and development of an inclusive re-entry program for students. Additionally, over the past year as we transitioned online, Mike's creative ideas and positive energy made a difference in our virtual office environment and team meetings! Thanks Mike for everything that you do to support the office!"
When learning he won, Mike said, "As they say, 'teamwork makes the dream work' and fortunately for me, I have a great team at the Centre for International Programs (CIP). I feel quite lucky to be part of such a talented, creative, and collaborative team.  Despite the challenging times, we continue to support one another and share many laughs along the way. If you want to put me in a lockdown for 15 months, these are the folks I want to be in with. I'm really lucky I enjoy the people I work with and I love the work that I do. I want to express my thanks and gratitude, we have a lot of good laughs, and especially during this time it's an amazing team to be around."
At the celebration meeting, Jacqueline Veres shared "I work closely with Mike in my role and we had come out of finishing up a big project where he was our project lead. He did a great job of coordinating everything and making sure that everyone had an opportunity to contribute, did a really good job leading, always has creative ideas, and is a great asset to our team."
Lynne Mitchell said, "Mike has been a great asset to our team, he is an exceptionally hard worker, always concerned about students first and making sure they are looked after.  He is always out trying exciting new and creative things for our office."
Allison Broadbent stated, "Mike works really hard and always has a really good, positive attitude and makes us laugh, which makes things less hard during covid."
Dimitra Stefopoulou shared, "It's been a pleasure to work with Mike from day 1, his laughter is contagious, and he is a great colleague to work with, he has lots to contribute, and promotes inclusiveness. We are very lucky to have him on our team!"
Chen Chen said, "Thank you for your effort, it's a great pleasure to work with you"
Congrats Mike and thanks for all your hard work!
"G" Thanks! is a program within the GREAT at U of G initiative, focused on building a culture of gratitude, recognition, and appreciation at U of G. Each month, a new Kudoboard is open for nominations from the University community for faculty and staff who you want to appreciate, recognize, or show gratitude for.

Learn more by visiting the GREAT at U of G website.