Congrats to our July "G" Thanks! Winner Cam Shaw!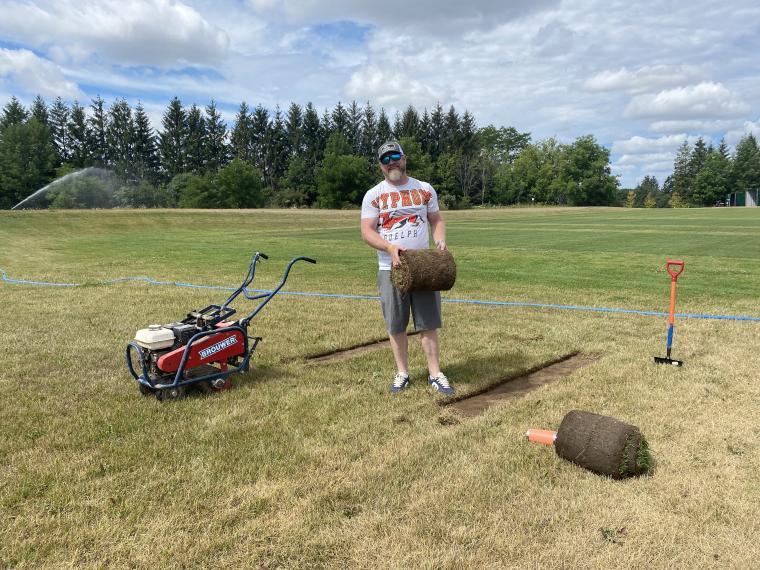 Congrats to our July "G" Thanks! Winner Cam Shaw!
Sara Stricker wrote in her Kudoboard nomination:
I'd like to give a big thanks to @Cam Shaw who continues to be a source of knowledge and support, and who isn't afraid to get his hands dirty. Cam never tires of my endless questions and requests, even at odd hours of the day. Cam is also an amazing support for the Diploma in Turf Management students and always advocates for the DTM program in ways that continue to improve student experience. Thanks Cam!!
A virtual celebration was held for Cam to show appreciation and recognition.
At the celebration, Eric Lyons said: First of all, the entire department is so happy to have Cam on board. Cam's been a great help coordinating the Turf Grass symposium. He's always looking for outreach opportunities and he's been a great support to me.
Sara mentioned: Cam is a wealth of resources. He's always excited to talk anything Turfgrass. And how many times have I asked you questions about golf?
Cam said: A big thank you Sara for nominating me and to Eric for all your support. I've been in the role of Manager of the Diploma in Turfgrass Management officially since January 2022. Prior to that, I was in Sara's role. I'm also a member of our alumni and I think that's where a lot of the passion comes from. I received a lot of support from people like Eric and I think it's important to be part of the reciprocation process. The turf program at the University of Guelph is something that is deeply important and special to me.  Though we are a small group embedded within the OAC and U of G communities, our staff, instructors and students are some of the most passionate, charismatic and supportive people.
I wish to share the wonderful recognition from the G Thanks program with all of the "turfies" here at the University of Guelph - a group from which I receive support, inspiration, camaraderie and love from each day.  How lucky am I?
I'll introduce my wonderful mother and father, Susan and Frank Shaw. Especially now that I have kids of my own, I think it's even more important for me that they share in this.
Susan said: I'd just like to say that our hearts are proud.
Congrats Cam and thanks for all your great work!
"G" Thanks! is a program within the GREAT at U of G initiative, focused on building a culture of gratitude, recognition, and appreciation at U of G. Each month, a new Kudoboard is open for nominations from the University community for faculty and staff who you want to appreciate, recognize, or show gratitude for.
Learn more by visiting the GREAT at U of G website