Congrats to our June "G" Thanks! Winner Patricia Tersigni!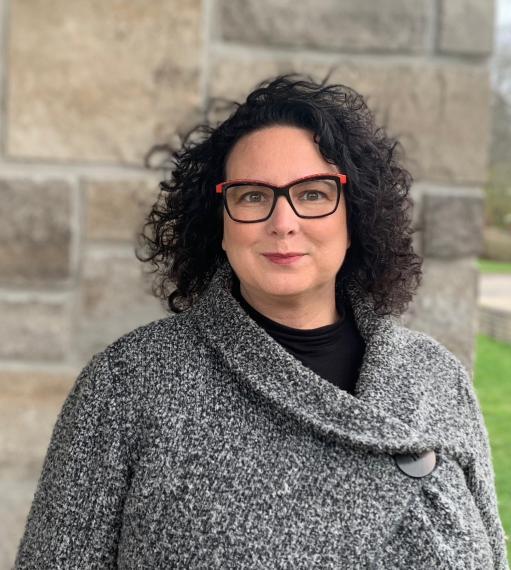 Congrats to our June "G" Thanks! Winner Patricia Tersigni!
Jacqueline Hamilton wrote in her Kudoboard nomination:
"@Patricia Tersigni does so much to support folks on campus and is truly deserving of a 'G Thanks' nomination! Whether it is a quick call to help bounce an idea around, great insight into how to navigate academic processes, paperwork, etc. or just a chance to connect and check in, I (and many others!) are truly grateful for all the work Patricia does!"
At the celebration meeting Patricia said, "It was very humbling to get the notification that I was nominated for a "GThanks." I was really touched by Jacqueline taking the time to write such a lovely message because there are so many deserving people at the University. We are fortunate to have a campus and workplace with so many wonderful people who want to collaborate and put their efforts into making things better for students, staff and faculty alike. I am lucky to work with amazing folks across all areas and it is so inspiring to see the commitment, positive attitudes and generosity of spirit people bring to the University, day in and day out. It also makes it easy to do my job. It is a real pleasure to work with Jacqueline and the other Academic Managers and I've seen their dedication amplified through the pandemic. I also just love this GThanks program and feel it is such a good way to recognize different people on campus, which is especially helpful in the remote environment. The other benefit is to have access to all of the Kudos. It's a pleasure to read about the ways people are making a difference and especially fun to read about different interactions and connections across campus. Thank you again, Jacqueline and the GThanks Committee!"
Jacqueline also shared that, "It is no secret that Patricia does a million and one things, and then some more! I think about how much Lang reaches out to her and I imagine it is amplified across other colleges and I wonder how it is possible she gets it all done! Patricia always has a smile on her face, is ready to help, and is a shoulder to lean on. When I think of her, I think of someone who builds really strong, trusting relationships. You can go to Patricia anytime, it is not a scary thing to ask her for help and support. When I saw the Kudo board GThanks! program I thought about Patricia because, especially with the last year with Lang's accreditation, she has been super helpful and supportive. I know everyone in our group feels the same as well as lots of others on campus. Thanks!"
Morgan Marini stated, "Patricia is so involved in the United way, and in other community programs both in the Guelph community and on campus. It is no surprise that your generosity and ideas translate into your great work on campus. People like you are so deserving of this type of recognition. It really makes an impact on the broader workplace culture. Thank you!"
Congrats Patricia and thanks for all your great work!
"G" Thanks! is a program within the GREAT at U of G initiative, focused on building a culture of gratitude, recognition, and appreciation at U of G. Each month, a new Kudoboard is open for nominations from the University community for faculty and staff who you want to appreciate, recognize, or show gratitude for.

Learn more by visiting the GREAT at U of G website