Congrats to our March "G" Thanks! winner Pugaleni Iynkaran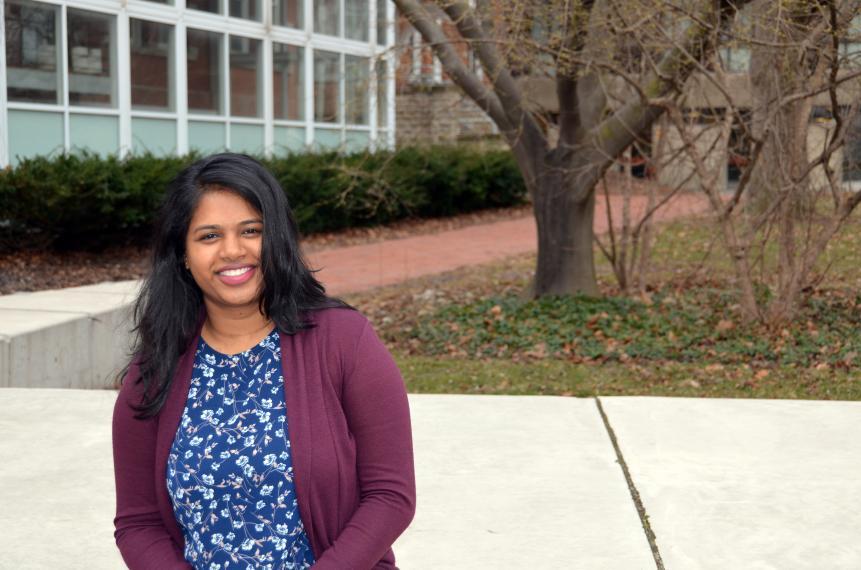 Congratulations to our March "G" Thanks! winner Pugaleni Iynkaran.
Jessica Ruprecht wrote "I would like to nominate Pugaleni Iynkaran from Student Experience for G Thanks! Pugaleni works with International Students as an Advisor, and despite the amount of challenges and changes thrown her way has been a fantastic advocate and support for International students among the COVID pandemic. Her work ethic is impressive, and despite being extremely busy with her work she also always finds time to check in and see how others are doing, and contribute to department socials and meetings in a way that brings positivity, humour, and kindness. Thanks Pugaleni!"
Pugaleni said, "I'm so honored to be selected as the winner this month. I'm grateful for Jessica. She took the time to write such a sweet and thoughtful nomination message. I couldn't believe it. It means a lot. It has been a difficult year in so many fronts for so many of us. Being recognized in this capacity has really humbled me and also motivated me to do better. I think it's important to look out for each other in during this time. I feel energized to pay it forward."
Tom Lusis mentioned, "It is significant to note that Pugaleni just transitioned into the new role when the world went upside down, but she was still able to be a strong support. The fact that she was nominated when she was going through a once in a lifetime chaos (pandemic) and was able to maintain her type of grace and offer contributions to the college, makes the nomination much more special."  
You Jia Lee said, "I've been great working with Pugaleni since 2016 and she has always been there for me, from transitioning from graduation and into the professional workplace. I really cherish how she is always there when I need support, she has good insights of how to provide holistic programming to International students and give feedback on some of the work."
As a small token of appreciation, Pugaleni will receive a "G" Thanks! prize box in the mail from the GREAT at U of G Committee.

Congrats Pugaleni and thanks for all your hard work!
"G" Thanks! is a program within the GREAT at U of G initiative, focused on building a culture of gratitude, recognition, and appreciation at U of G. Each month, a new Kudoboard is open for nominations from the University community for faculty and staff who you want to appreciate, recognize, or show gratitude for.

Learn more by visiting the GREAT at U of G website.