Congrats to our May "G" Thanks! Winner Wesley Wilson!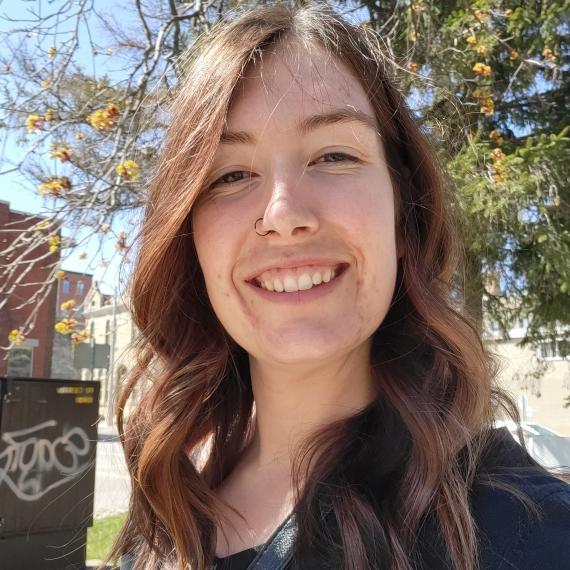 Congrats to our May "G" Thanks! Winner Wesley Wilson! 
Elizabeth King, Laboratory Services Division (LSD) said, "I nominated Wesley because she keeps things organized and moving and is also always willing to help and support people. Wes has co-chaired the LSD Wellness Committee, organizes the agendas and all its volunteers, and written grant applications. I also nominated Wes for her recent wellness initiative, a book club, which has met online as needed in the past year. Thank you!!"
When learning she was the May recipient, Wesley said, "I'm very excited to be acknowledged by the "G" Thanks program. I consider myself lucky to have an amazing team at Laboratory Services Division, who all dedicate so much time and effort to improving wellness in the workplace."
Wesley's supervisor Saleema Saleh-lakeh said, "Wesley serves as co-chair for the LSD Wellness Committee and it can be difficult to get folks to volunteer. All the grants she did all on her own and it was very much appreciated. She is a very valuable member of the team and also checks in with people to see how they are doing generally. She does a really good job of checking in with people she sees daily. And people might not want to be in a group formally, but she does an amazing job showing caring for others."
Wesley shared, "Thank you Liz and Saleema for all those kind words. In the workplace I just want people to enjoy their time and feel connected. I started with Wellness because I've always really enjoyed book clubs and I wanted to start a book club. At first, it was just a couple of folks and now the book club has expanded and it is amazing to meet with other people. I've just been really happy to make sure it worked. It's an initiative I'm really proud of." 
A virtual celebration was held for Wesley to show appreciation and recognition. 
Congrats Wesley and thanks for all your great work!
"G" Thanks! is a program within the GREAT at U of G initiative, focused on building a culture of gratitude, recognition, and appreciation at U of G. Each month, a new Kudoboard is open for nominations from the University community for faculty and staff who you want to appreciate, recognize, or show gratitude for.
Learn more by visiting the GREAT at U of G website