Congrats to our November "G" Thanks! Winner Victoria Fritz!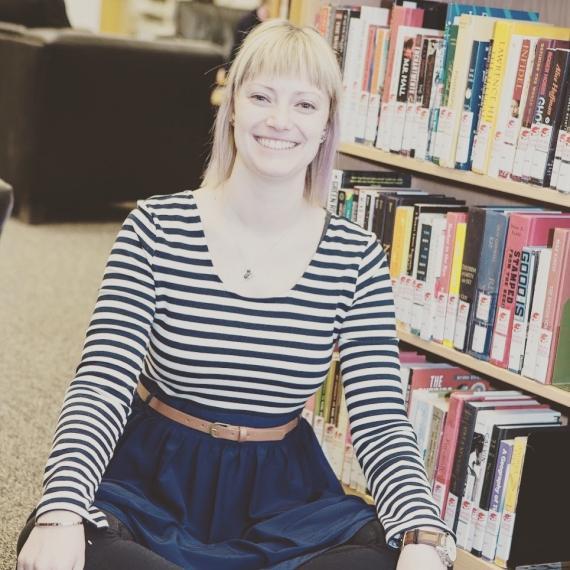 Congrats to our November "G" Thanks! Winner Victoria Fritz!
Jacqueline Hamilton wrote in her Kudoboard nomination:
"I would like to nominate @Victoria Fritz! Victoria works in wellness and is always working so hard on developing resources and offering support to students. I have been able to share a lot of her resources on courselink with students, and she even came to a class to talk to them about wellness and mindfulness. The university is a better place because of Victoria! "
A virtual celebration was held for Victoria and several of her colleagues joined to show appreciation and recognition.
Victoria said, "I am honoured to be nominated for this award and feel so incredibly lucky to work with such amazing people on the U of G campus! Mental wellbeing is so important, and I feel so privileged to be able to help support students thrive in their time on campus. I also want to take this opportunity to remind all of us that our own mental health is as important as our physical health, so, this break I would like to challenge us all to take some time for ourselves and do something that makes us feel nourished."
Jacqueline also said, "Victoria created a custom sheet of resources based on the students needs. The students were so appreciative of the thought, care, and time she took to customize it for the group and the students who accessed it enjoyed it so much. Taking the time to put something together thoughtfully to share and seeing the impact on the students really shows Victoria's impact at UofG."
Melanie Bowman said, "Victoria genuinely cares about students' well-being. We appreciate you! Congrats Victoria!"
Melissa Conte shared "Victoria is such a thoughtful and caring person. I am not surprised to hear she went above and beyond for students' wellness and well-being. I feel really lucky to get to work with her!"
Rebecca Skelhorn said "Victoria is so amazing at connecting with students in a natural way that really helps them. It's so great to have her on our team and have her reaching out to colleagues on the more academic side to reach students in this way!"
Shannon Brown added, "Victoria is a really wonderful part of our team and students are just as lucky as we are that they get to interact with her!"
Congrats Victoria and thanks for all your great work!
"G" Thanks! is a program within the GREAT at U of G initiative, focused on building a culture of gratitude, recognition, and appreciation at U of G. Each month, a new Kudoboard is open for nominations from the University community for faculty and staff who you want to appreciate, recognize, or show gratitude for.
Learn more by visiting the GREAT at U of G website.