Congrats to our October "G" Thanks! Winner Kaitlyn Edwards!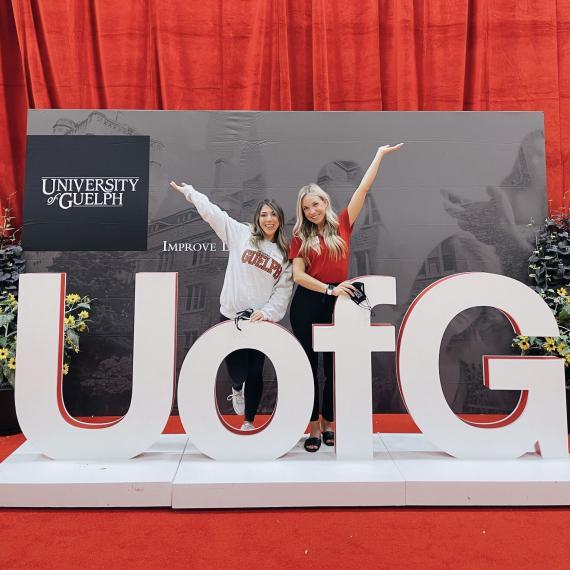 Congrats to our October "G" Thanks! Winner Kaitlyn Edwards!
Lisa Hood wrote in her Kudoboard nomination:
"Big high fives to the Guelph Grad on Tour team, specifically @Kaitlyn Edwards! Guelph Grad on Tour came about as a unique way to welcome new U of G grads to the alumni family when convocation ceremonies were not possible due to COVID. The 2021 edition of this hugely popular event was postponed in the spring due to case counts, and was successfully completed over Thanksgiving weekend this year. Kaitlyn brought creativity and fun to the event, with a special "milestone red carpet" experience for new grads, and was there ALL Thanksgiving weekend to ensure the guests (grads, their families, staff and volunteers) had an awesome experience. The personal attention she gave to the participants and new grads is sure to have made them feel unique, and special - exactly how we want a new grad to feel! Plus, she sacrificed her long weekend. Thanks for being so committed Kaitlyn!"
A virtual celebration was held for Kaitlyn and several of her colleagues joined to show appreciation and recognition for her.
After learning she won, Kaitlyn said, "I just want to say first off thanks everyone for coming and celebrating! Everything I have done has been in collaboration with many of you here, so I just want to say thank you for being so encouraging of me. I am a very passionate person and working at UofG, specifically AA&D allows me to thrive. I am so grateful for this! I've been working at U of G for over 7 years now and consider myself so lucky to get to work with an amazing community each day."
Lisa Hood shared "Kaitlyn has been reporting into me for just over a year and has blown my socks off with her creativity. She is willing to go above and beyond to make the experience excellent for students. She does wonderful work, I am happy to see her flourishing in this role. Kaitlyn's also been the lead for the AA&D United Way committee for a few years, leading us to great results. She was a fundraiser before she was a fundraiser!"
Morgan Marini said, "Kaitlyn is so deserving of this recognition! I have worked with her on the Grad Tour, Convocation and other Grad events. She is always so enthusiastic, creative, supportive and eager to make everyone's experience memorable. Seeing the number of people here today is a testament to her impact not only on grads and students, but also her colleagues."
Kourtney Parker said "We all relish the opportunity to show Kaitlyn that we appreciate her! Creative, energetic, eager, thoughtful, kind and full of integrity, Kaitlyn is so valued and such an important part of so many people's experience with UG and AA&D."
Jayne Whitfield said, "You're such a star Kaitlyn! So great to see you shining so brightly in this role."
Wendy Jespersen wrote, "Kaitlyn doesn't skimp on creativity and commitment! Great work on this...and everything else!"
Marina Smith expressed, "Kaitlyn is such an incredibly hard worker and she does it all with a smile on her face and makes it look effortless! Always pushing herself and bettering everything she's a part of - we're so lucky to work with her."
Nila Middleton said, "Kaitlyn puts her heart in everything she does. SO proud of you and great to see hard work pay off!"
Beth Campbell shared, "Kaitlyn, we're so lucky to have your passion, commitment and creativity in AA&D. Glad to be able to celebrate such a wonderful colleague!"
Sabrina Cazzola wrote, "Such a well-deserved recognition and celebration for you Kaitlyn! So proud of you and all you've accomplished. We are so lucky to have you."
Congrats Kaitlyn and thanks for all your great work!
"G" Thanks! is a program within the GREAT at U of G initiative, focused on building a culture of gratitude, recognition, and appreciation at U of G. Each month, a new Kudoboard is open for nominations from the University community for faculty and staff who you want to appreciate, recognize, or show gratitude for.
Learn more by visiting the GREAT at U of G website