Wellness@Work Launches Pulse Survey!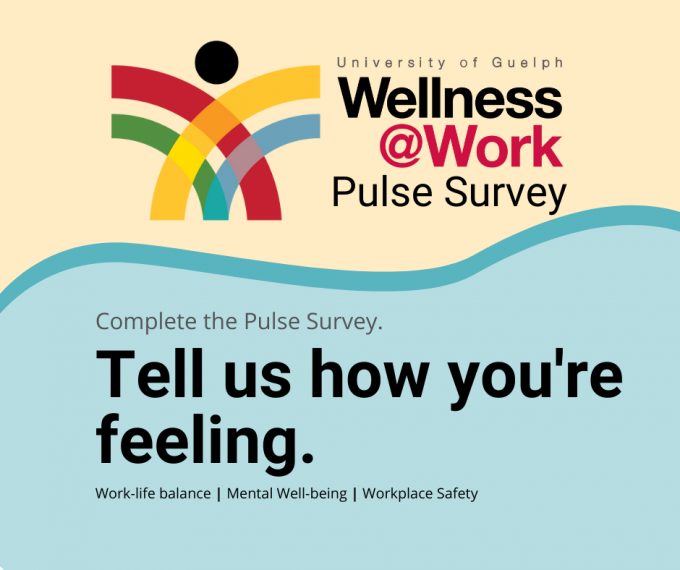 Why Do We Need Your Feedback?
As communicated earlier in 2023, Wellness@Work is re-administering its Pulse Survey and it is now open! The survey is open to all faculty and staff to share with us how you are feeling. 
The Wellness@Work initiative supports the whole-person well-being for faculty and staff at the University of Guelph. The following pulse survey asks the same questions as the 2022 pulse survey and is meant to collect a high-level understanding of your perspective regarding your
mental health;
workplace safety; 
work-life balance; and
to start identifying employee experience trends.
The input you provide through this survey is incredibly valuable and will help shape programming, policies, strategic planning, and procedures developed by the Wellness@Work to support your wellbeing. Your well-being matters and we need your feedback to help us improve and adapt.
How Long is the Pulse Survey? 
The Wellness@Work Pulse Survey is now open to all faculty and staff, so please share with us how you are feeling! It should take no more than 5 minutes to complete as the survey has less than 5 short questions. All responses to this survey are anonymous.
As the survey link is posted publically on the Wellness@Work and HR website, you may be asked to verify your SSO. Your SSO is not tracked and is simply a verification that a U of G employee is sharing their perspective. All the responses to this survey will be anonymous. Results will be reported in aggregate form only. This data will be analyzed and reported in such a way as to ensure no individual can be identified with their answers. All information with fewer than 10 respondents will be suppressed to ensure respondent anonymity.
As this survey is intended to provide a high level understand of your experience, in late January/early February 2024 a more comprehensive, in-depth survey will be launched as a follow-up to the 2017 Wellness@Work survey. At that time, you will have the opportunity to provide more detailed feedback and comments.
The Pulse Survey will close at 9:00am on Monday June 19, 2023, so make sure to provide your feedback before then!
Questions? 
If you have any questions about this survey, please contact Isidora Nežić, Wellness@Work Advisor, at wellnessatwork@uoguelph.ca.
Results from the 2022 Pulse Survey can be viewed on the Wellness@Work Website.