Wellness@Work Launches Pulse Survey!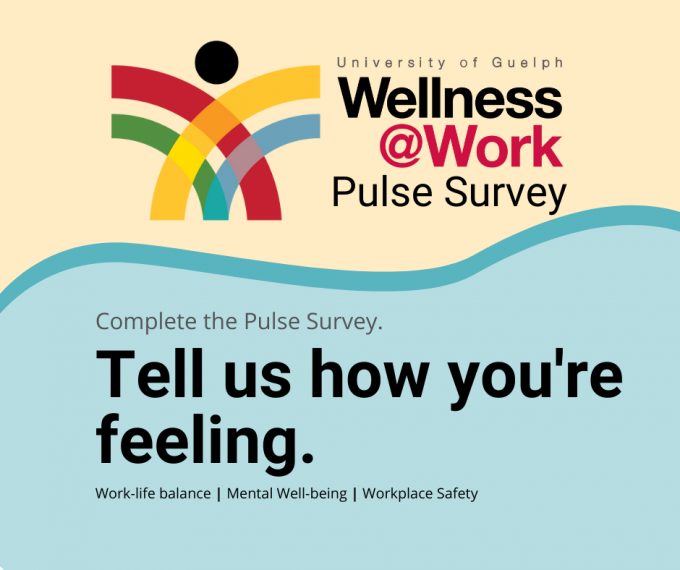 Why Do We Need Your Feedback?
The Wellness@Work initiative supports whole-person wellbeing for faculty and staff at the University of Guelph.  This survey helps us collect a high-level understanding of your perspective regarding work-life balance, mental well-being and workpalce safety. The input you provide through this survey is incredibly valuable and will help shape programming, policies, strategic planning, and procedures developed by the Wellness@Work to support your wellbeing. Your well-being matters and we need your feedback to help us improve and adapt.
How Long is the Pulse Survey? 
The Wellness@Work Pulse Survey is now open to all faculty and staff, so please share with us how you are feeling! It should take no more than 5 minutes to complete as the survey has less than 10 short questions. All responses to this survey are anonymous.
As this survey is intended to provide a high level understand of your experience, in early to mid-2023 a more comprehensive, in-depth survey will be launched as a follow-up to the 2017 Wellness@Work survey. At that time, you will have the opportunity to provide more detailed feedback and comments.
The Pulse Survey will close at 9:00am on Monday June 20, 2022, so make sure to provide your feedback before then!
Questions? 
If you have any questions about this survey, please contact Isidora Nezic, Wellness@Work Advisor, at wellnessatwork@uoguelph.ca.